Industrial grade 3×3 2.4/5GHz High Power 11abgn mini PCI Express Module
Part No.:JWX6082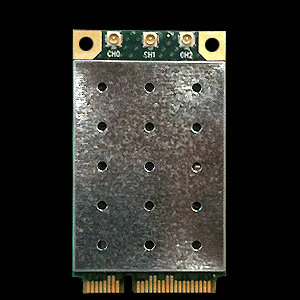 MIMO
This duo band IEEE 802.11a/b/g/n wireless 3T3R mini PCIe card is built with industrial-grade components. MIMO technology provides higher throughput and farther coverage.
Robust, Reliable
It is designed for reliable and demanding outdoor, enterprise, and carrier-class applications.
Multi-Purpose
The mini PCIe interface integrates easily with embedded platforms to construct single or multiple-radio access points, wireless bridges, and consumer premises client equipment.


Specifications
Chipset
Atheros AR9390-AL1B
Data Rate
11b : up to 11Mbps
11a/g : up to 54Mbps
11n : up to 450Mbps
Host Interface
Mini PCIe
Radio Operation
IEEE 802.11a/n
IEEE 802.11g/n
Output Power
Tx +/- 2dB (1Tx)
15dBm @ 6~12Mbps
12dBm @ 54Mbps
15/15dBm @ MCS0 (HT20/HT40)
10/10dBm @ MCS7 (HT20/HT40)
19dBm @ 1~11Mbps
19dBm @ 6~12Mbps
16dBm @ 54Mbps
18/18dBm @ MCS0 (HT20/HT40)
14/13dBm @ MCS7 (HT20/HT40)
Receiver Sensitivity
Rx +/- 2dB
-94dBm @ 6~12Mbps
-78dBm @ 54Mbps
-93/-92dBm @ MCS0 (HT20/HT40)
-73/-70dBm @ MCS7 (HT20/HT40)
-95dBm @ 1~11Mbps
-95dBm @ 6~12Mbps
-79dBm @ 54Mbps
-94/-92dBm @ MCS0 (HT20/HT40)
-73/-71dBm @ MCS7 (HT20/HT40)
Antenna Interface
U.FL x3 for 3T3R
Dimension
50.95(L) mm X 30(W) mm X 3.8(H) mm
Operating Voltage
3.3V+/- 0.1V
Operating Temperature
-40°C to +85°C
* The output power of 3Tx equals to 1Tx power plus 5dB (3Tx = 1Tx + 5dB)
* For example, 1Tx=17dBm, 3Tx combined = 17dBm + "5"dB = 22dBm


JWX6082 Datasheet: Download