Industrial Grade Dual Radio 11a/n 2T2R, 11g/n 2T2R High Power PCBA
Part No.:C-10-JWAP606-0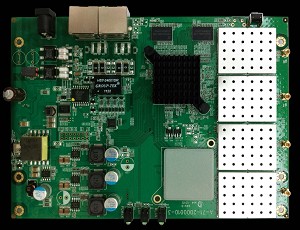 High Power MIMO
MIMO technology provides higher throughput and farther coverage.
Robust, Reliable
It is designed for reliable and demanding outdoor, enterprise, and carrier-class applications.



Hardware Specifications
Qualcomm Atheros AR9344
Qualcomm Atheros AR9382
Qualcomm Atheros AR8035
128Mbytes SDRAM Memory
16Mbytes SPI Flash Memory
One Gigabit Ethernet Port
MMCX * 4 (a/n: *2 & g/n *2)
SW Reset Button*1
LEDs*3, Power, WAN, WLAN
Console : RJ-45, UART*1
DC : 36-57V (Adapter priority)
PoE : 802.3at
Surge Protection :
Common mode – 6KV
Differential mode – 1.5KV
Power Consumption : 22W max.
Operating: 10% to 90% non-condensing
Storage: 5% to 90% non-condensing
Operating Temperature: -40ºC to +60ºC
Storage Temperature: -40ºC to +70ºC
Dimension : 120 x 170 (mm)
RF Specifications
Standards
IEEE 802.11b/g, 802.11a, 802.11n
Data Rate
11b: 1/2/5.5/11Mbps
11a/g: 6/9/12/24/36/48/54Mbps
11n (20MHz): MCS0-15, up to 150Mbps
11n (40MHz): MCS0-15, up to 300Mbps
Modulation
OFDM,16QAM,64QAM
Frequency Range
2.412 ~ 2.472GHz
5.15 ~ 5.825GHz
Radio Operation
IEEE 802.11a/n
IEEE 802.11g/n
Output Power
Tx (RMS) +/- 2dB (1TX)
24dBm @ 6~24Mbps
23dBm @ 36Mbps
22dBm @ 48Mbps
21dBm @ 54Mbps
24/24dBm @ MCS0 (HT20/HT40)
23/23dBm @ MCS1 (HT20/HT40)
23/23dBm @ MCS2 (HT20/HT40)
23/23dBm @ MCS3 (HT20/HT40)
22/22dBm @ MCS4 (HT20/HT40)
22/22dBm @ MCS5 (HT20/HT40)
21/21dBm @ MCS6 (HT20/HT40)
21/21dBm @ MCS7 (HT20/HT40)
24dBm @ 6~24(1-11)Mbps
23dBm @ 36Mbps
22dBm @ 48Mbps
21dBm @ 54Mbps
24/24dBm @ MCS0 (HT20/HT40)
23/23dBm @ MCS1 (HT20/HT40)
23/23dBm @ MCS2 (HT20/HT40)
23/23dBm @ MCS3 (HT20/HT40)
22/22dBm @ MCS4 (HT20/HT40)
22/22dBm @ MCS5 (HT20/HT40)
21/21dBm @ MCS6 (HT20/HT40)
21/21dBm @ MCS7 (HT20/HT40)
Receiver Sensitivity
Rx +/- 2dB
-92~-90dBm @ 6~24Mbps
-80dBm @ 36Mbps
-76dBm @ 48Mbps
-74dBm @ 54Mbps
-92dBm @ MCS0 (HT20)
-74dBm @ MCS7 (HT20)
-89dBm @ MCS0 (HT40)
-70dBm @ MCS7 (HT40)


-98~-92dBm @ 1~11Mbps
-91~-87dBm @ 6~24Mbps
-81dBm @ 36Mbps
-77dBm @ 48Mbps
-75dBm @ 54Mbps
-89dBm @ MCS0 (HT20)
-75dBm @ MCS7 (HT20)
-89dBm @ MCS0 (HT40)
-70dBm @ MCS7 (HT40)